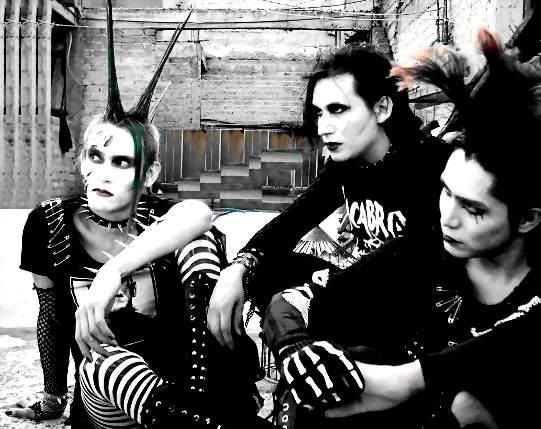 Las Górgonas banda formada, em agosto de 1997,no mexico, com Omar F. Voz e sequencia de programação, Roman F. na guitarra e seqüências de programação, Panchito Death no baixo e sintetizador. Eles definem seu som como DEATHROCK em que incorpora elementos de clássicos do death rock e novos sons.
A banda já se apresentou nos festivais mais representativos da cena underground do México e do Museu de CHOP, ROCKOTITLAN, UTA, DADA X, o sub, O Grotesk FLYING CIRCUS entre outros, além de ser um dos grupos com mais Visitas ao interior da República.
Ao longo de sua história, actuou com bandas como os SEX GANG CHILDREN, CINEMA STRANGE, THE LAST DANCE, THE DEATH OF A PARTY, SCARLET´S REMAINS, NAUGTHY ZOMBIES, CARNICEROS DEL NORTE, AVANT GARDE, BLOOD, CORVUS CORAX, TANZWUT, RABIA SORDA, MALDOROR, AMDUSCIA , e muito mais .... Além de ter uma turnê na Europa através de 6 cidades (Roma, Alicante, Valência, Madrid, Porto e Lisboa) e uma na América do Sul (Buenos Aires e Lima ) Gorgona tem mais de 170 apresentações no México.
Las Górgonas 3 trabalhos discograficos realizados, em 2001, o EP "Deathrock", a segunda em 2005 album "Nocturno Kaos" e o terceiro "Teatro Macabro", que são produções independentes.
Las Gorgonas a banda que fez reerguer um estilo que estava algo esquecido,como o Deathrock e apesar de terem apenas tres trabalhos realizados,tenhem 150.000 visitas no seu myspace,simplesmente porque sao grande banda.
Deathrock(Demo)2001
01 Agonia
02 Parpadeo
03 Funeral
04 La Ciega
05 Resureccion
06 Epitafio
Nocturno Kaos(2005)
01 Machines 3:26
02 Manada Insomne 5:03
03 La Ciega 3:48
04 Vientre De Concreto 4:36
05 Fucking U.S.A. 2:36
06 Mente Demolita 3:09
07 Resurrección 4:25
08 Conspiradores 4:42
09 Desolación 5:28
10 Cold War 4:57
Teatro Macabro(2007)
01 Macabra la Enterradora 5:06
02 Invitación a un Funeral 4:39
03 No estoy Muerto 3:41
04 Terror Nuclear 5:22
05 Estados Alterados 4:11
06 Autosuficiencia 2:08
07 Úrsula Asesina 7:09
08 I'm not Dead 3:40
09 Altered States 4:11
10 Macabre, The Gravediggers 5:02
11 Estados Alterados (Video)
12 La Ciega (Video)
13 Machines (Video)
.